Discipleship in the Classroom
by Kim Cairns
Academic Dean

On the values page of the PRBI website it is stated that, "PRBI is committed to: Teaching the Word of God through strong biblical academics." Our faculty work hard to provide quality academics for our students; they continue to study in their fields so that they can pass on current and relevant knowledge. Yet as much as we desire to pass on this knowledge it is not our end goal as an academic institution.
Without diminishing the quality of our academics we strive for a larger goal than transferring knowledge. Our objective is also stated on our website, "Academics at PRBI are designed to help you establish your relationship with Jesus Christ, understand what it means to become a follower, and learn how to take others through the same process." How do we achieve this goal? What does discipleship in the classroom look like?
It is Intentional
It has been said, "No plan is a plan." If the faculty do not plan for discipleship in most cases it will not happen. So then, in addition to reading, writing, and preparing the information for their courses the faculty must consider how they will incorporate discipleship into their lectures and assignments.
Dan Ikenouye, one of our adjunct faculty likened teaching in the classroom to a bus tour. To paraphrase him, much is covered in a tour but to make the trip memorable one needs to also get off the bus at times and look around. As part of their courses, faculty must intentionally plan to make stops along the way so that the students have opportunity to take the information from their heads into their hearts. Moving information from head to heart can happen with a good question, a planned discussion or an assignment that takes them beyond acquiring knowledge to application.
It is Holy Spirit Directed
The key element of the discipleship-making process is inviting the Holy Spirit into our academics. The effectiveness of discipleship depends on the Holy Spirit's direction. Without the Spirit's anointing the class becomes a mere academic exercise. It is not only the faculty who need the Spirit's anointing in teaching, but the students also need His grace in learning.
Faculty must remain alert to the direction of the Holy Spirit as they prepare and deliver their course material. With the Holy Spirit's participation they will not simply fall into teaching the same material again and again but each class and each year provides a new opportunity to see God at work in the students' lives. Knowing our material is important but equally important is knowing our students and praying for them. Listening for the question that unlocks a discipleship moment and keeping our office doors open to their inquiries help faculty build in a discipleship component to the student– teacher relationship.
It is Relational
Discipleship in the classroom involves more than an effective presentation. It is life on life. The faculty seek to model what they are teaching. Sometimes that means admitting when we are wrong and asking for forgiveness. Once after showing my impatience with a class, I knew I had not represented Christ well in that situation. I asked the class for forgiveness and later I received a note from a student expressing their appreciation for the apology. The student went on to explain that they never had a male authority figure in their life ever ask for forgiveness. Indeed, a humbling moment for me but a reminder that discipleship is more than words, it is also example.
The faculty strive to heed Paul's instruction to Timothy in their teaching. Watch your life and doctrine closely. Persevere in them, because if you do, you will save both yourself and your hearers (I Tm 4:16). Earlier in the same chapter Paul urges Timothy . . . but set an example in life, speech, love, faith and purity (I Tm 4:12b). As a faculty I am acutely aware of how much talking I do in the classroom. It gives me pause to ask, "Am I walking the talk?"
It is Uncomfortable (at times)
To my knowledge grading student assignments is not the preferred activity of any faculty and that might be under stating the point! But grading assignments is part of the academic experience that cannot be avoided. In our context it also can be an avenue of discipleship as faculty patiently help students see where they can improve and grow.
We can contribute to their discipleship when we encourage their efforts and affirm the direction they are taking in their studies. That is obviously a comfortable experience. Walking with a student in their mistakes and occasional failures also provides a significant discipleship opportunity, albeit sometimes an uncomfortable one. In working with a student our goal is to not only help them raise their grades but we also find opportunities to address other issues they might be dealing with which are affecting their studies. Very rarely is the issue of poor grades purely an academic one. In most cases other life issues are competing for the student's attention. It might be a broken relationship, a habit that is defeating them or some form of rebellion against God and other authority figures. Wading into a student's issues may not be the most comfortable experience initially, and in some cases it takes time and repeated efforts to overcome, but in most cases we are encouraged by the signs of transformation and progress we witness. The student's growth encourages us to keep at the task of discipleship even if it is sometimes challenging.
It is Unexpected (at times)
Normally we would expect that the best discipleship moments come out of our Bible courses. It is true that these courses provide some great opportunities, but it has been my experience that discipleship opportunities also pop up in other types of classes.
Classes that focus on relationships like Christian Life Development, People Helping, and Family Studies often provide students an opportunity to explore how life and relationships intersect with their faith. The assignments in these courses are intentionally designed to stimulate personal growth in faith, spirituality, and relationships with God and others.
An unexpected place where discipleship takes place is in our general studies courses like Sociology, Philosophy, and History. One would not immediately think that these courses would lend themselves to discipleship. However, these courses all deal with worldviews and developing a Christian worldview is fundamental to the life of discipleship. As worldviews are critiqued and a Christian worldview is presented, students are given opportunities to clarify what it means to follow Christ in society. Courses like these help them identify where they have been influenced by a non-Christian worldview and what needs to change to more consistently represent Christ in the world.
A Final Challenge
PRBI is "a college for life". Our goal is to integrate discipleship into all of our academics. We are intentional in our objective but completely dependent on the Holy Spirit's anointing and guidance to fulfill it. We covet the prayers of our constituency for these God-directed moments in the classroom, the study hall and the office. Pray for our faculty that they will be sensitive to the Holy Spirit's prompting as they prepare and deliver courses. Pray for our students that they will be willing to engage the head and the heart in classes and in their assignments.
In closing, might I encourage you that discipleship outside the classroom can look very similar to discipleship inside it? Incorporating discipleship into the "classroom of life" requires intentionality. If we do not plan for it in our busy lives it will not happen. It is not merely a human endeavour but only through the direction and power of the Holy Spirit will we grow in our relationship with Christ and our ability to pass Him on to others. It will involve the study of God's Word but it also requires life on life experiences with other like-minded believers. These life on life encounters will not always be comfortable experiences but sometimes in unexpected places and with unexpected people God will create the conditions for our growth in discipleship.
God's plan, both inside and outside the classroom, is "to help us establish our relationship with Jesus Christ, understand what it means to become a follower, and learn how to take others through the same process."
Originally published in Spring 2015 issue of Trumpet magazine.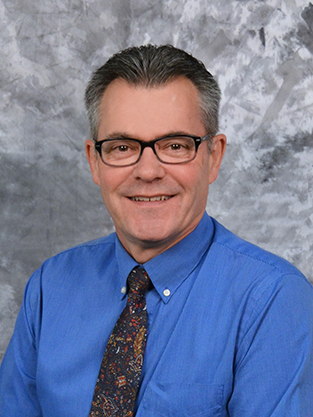 Kim has served as a member of the PRBI Team since 2009 and as Academic Dean since 2011. He is married to Kimberly (nee: Tattari, g '95) and they have four adult children and three grandchildren.